CIRAN Session at World Resources Forum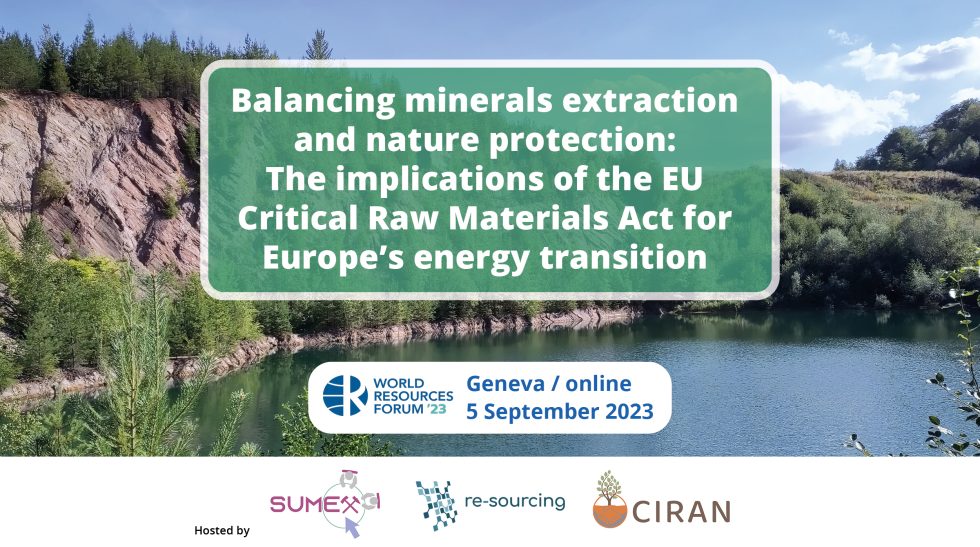 The EU-funded projects SUMEX, CIRAN and Re-sourcing invite you to join the high-level panel discussion "Balancing minerals extraction and nature protection: The implications of the EU Critical Raw Materials Act for Europe's energy transition" at the upcoming World Resources Forum 2023 in Geneva.
The session will be held on 5 September 2023, from 11:00 to 12:30 CEST. Participants may join either in-person in Geneva or online and the event will be particularly relevant for policymakers and authorities active in land-use planning, environmental conservation and mineral resources extraction
CONTEXT
The Critical Raw Materials Act, which was published recently by the European Commission, aims to address some of the challenges and opportunities that the EU faces in advancing the energy transition and achieving climate-neutrality by 2050. Among other objectives, it establishes a target of 10% of critical raw materials to be extracted within Europe by 2030, and it puts forward measures to expedite the permitting process for mining projects. It also strives to enhance the monitoring and risk management of supply disruptions, and to uphold high social and environmental standards for production of critical raw materials.
However, the proposed EU Regulation faces two major challenges in its implementation: growing international competition for mineral raw materials and domestic public opposition to mining & quarrying. This session will examine both aspects, seeking the optimal balance between securing the raw materials needed for the green transition in Europe and protecting Europe's natural capital.
JOIN US FOR A HIGH-LEVEL PANEL DISCUSSION WITH:
– Madalina Ivanica, European Commission
– Dumitru Fornea, European Economic and Social Committee / NTUC MERIDIAN Romania
– Linn Andersonn, Boliden
– José Miguel Martins, Portuguese Mining Authority
– Julian Hilton, EGRM of the United Nations Economic Commission for Europe
Moderator: Katharina Gugerell, Vienna University
REGISTRATION:
This registration form provides free virtual access to the panel discussion: https://tinyurl.com/ymn7wvh9
In case you are interested in other sessions of the World Resources Forum, please book tickets via the WRF website: https://wrf2023.org/tickets/
We look forward to meeting you in Geneva or online!